The main question that remains after the debut of the 2021 Ford F-150: Where's the desert-running, off-road-ready Raptor? We figure that Ford is more focused on debuting the highly-anticipated Bronco for now. But the 2021 Raptor is certainly on its way, and the new version will follow the same mantra as the last two generations. After all, it's hard to improve upon the Raptor recipe that combines big power, a beefy suspension setup, gnarly tires, and aggressive bodywork to create a super-capable off-road performance truck.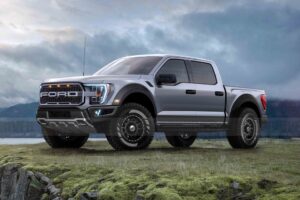 The third-generation Raptor should sport unique exterior styling, as illustrated above. The front end will likely use the new headlight design of the 2021 F-150 and incorporate a unique front grille just like those that made previous-gen Raptors so distinctive. Expect a revised front bumper to improve the approach angle, plus skid plates to protect the underbody, and a wider body and larger fender flares compared with the standard F-150.
With the Ram TRX about to enter the foray of high-performance off-road trucks with a 700-plus-horsepower Hellcat engine, we're sure that Ford will not want to be left behind. An upgraded version of the current Raptor's twin-turbocharged 3.5-liter V-6 is one option, but the 450 horsepower and 510 lb-ft of torque it makes in its current iteration won't be nearly enough. A hybrid system like the standard 2021 F-150's newly available gas-electric drivetrain could boost those numbers somewhat, although many Raptor buyers might find a hybrid offensive. Or, Ford could finally release a Raptor with the supercharged 5.2-liter V-8 found in the GT500, as has been rumored for some time. We could even see the Blue Oval offering two different powertrain options for the 2021 Raptor. The 10-speed automatic transmission from the last generation will likely carry over.